From: Sharyn Burley [mailto:sbu80968@bigpond.net.au;]
Sent: Sunday, December 09, 2012 11:24 AM
To: President@whitehouse.gov; Julia.gillard.mp@aph.gov.au; attorney@ag.gov.au; bnetanyahu@knesset.gov.il; sheila.williams@uk.bp.com; oosa@unvienna.org;
Cc: Tony.Abbott.MP@aph.gov.au; vice_president@whitehouse.gov; mha@ag.gov.au; zlivni@knesset.gov.il; uria@knesset.gov.il; ravraham@knesset.gov.il; securitythreats@dhs.gov;
thomas.lynch@usss.dhs.gov; senator@schumer.senate.gov; Wayne.Swan.MP@aph.gov.au; firstminister@scotland.gsi.gov.uk; elish.angiolini@scotland.gsi.gov.uk; alexandra_mallus@ios.doi.gov;
dschuld@juno.com; Kenny.MacAskill.msp@scottish.parliament.uk; minister@dbcde.gov.au; fmontgomery@montlaw.com; bcauley@dkmcorp.com; LEECHJ@parliament.uk; rosstd@hqmc.usmc.mil;
selinux-team@tycho.nsa.gov; thomas.lynch@usss.dhs.gov; Jeff.Kottkamp@MyFlorida.com; mbarakeh@knesset.gov.il; Criminal.Division@usdoj.gov; HPNadramia@churchofsatan.com;
defence.minister@defence.gov.au; scavi@fsp.va; nancy.pelosi@congressnewsletter.net; oig@dc.gov; spbasilica@org.va; askdoj@usdoj.gov; DHSOIGHOTLINE@dhs.gov; Dennis.Holland@uscp.gov;
Subject: William Hague: Britain has evidence that Assad preparing chemical weapons for use in Syria, said on Saturay that he had seen intelligence reports
- G. D. Simmons who shares this computer with Sharyn - my 1971/Invoking Law of Intent - http://www.harold-holt.net ¨C
William Hague: Britain has evidence that Assad preparing chemical weapons for use in Syria
William Hague has warned that Britain has ¡°evidence¡± that President Bashar al-Assad¡¯s regime is preparing chemical weapons for use in Syria¡¯s civil war.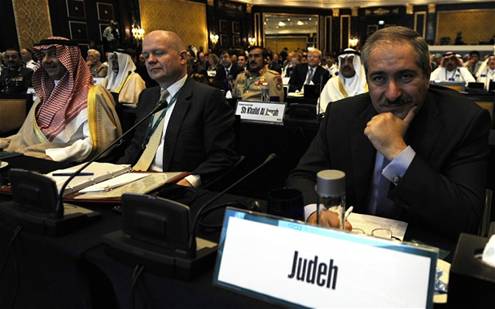 Jordan¨ªs foreign minister Nasser Judeh (R) attends with British Foreign Secretary William Hague (2-L) the 8th Manama Dialogue security conference in Manama, Bahrain Jordan¨ªs foreign minister Nasser Judeh (R) attends with British Foreign Secretary William Hague (2-L) the 8th Manama Dialogue security conference in Manama, Bahrain Photo: EPA Colin Freeman
By Colin Freeman 1:26PM GMT 08 Dec 2012
The Foreign Secretary said on Saturay that he had seen intelligence reports that Damascus was assembling chemical and biological stockpiles as a last-ditch defence against the growing rebel onslaught.
Speaking at a conference in the Gulf, Mr Hague declined to give details of the intelligence, but said it had been specific enough for Britain and America to warn the regime directly not to use the weapons.
¡°We have seen enough evidence to know that they need a warning and they have received that warning,¡± he said. Use of such weapons could prompt the West into airstrikes, he hinted.
http://counterpsyops.com/2012/07/23/urgent-new-sana-urls-http208-43-232-81-could-be-fake/
URGENT: New SANA URLs (http://208.43.232.81) could be fake ... counterpsyops.com/.../urgent-new-sana-urls-http208-43-232-81-coul...
23 Jul 2012 ¨C By MKERone Further to a twitter conversation with @Quoriana about the new IPs we decided to spread yesterday on CounterPsyOps, please ...
We keep monitoring the http://208.43.232.81 SANA URLs in case this is part of the NATO propaganda to mislead Syrian government supporters.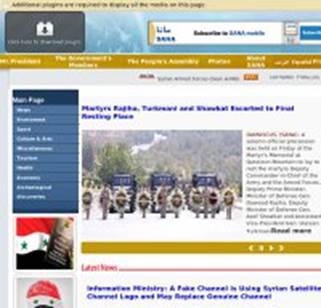 Firefox can't establish a connection to the server at 208.43.232.81.
and, you block me - my CT-Scan shows I hold the evidence - technology¡¯s violated the Laws of Creation
no one¡¯s going to have access to technology that I don¡¯t have, No Government, Military, Organization, or Agencies on Earth
Read: Mark MacArthur who's superior takes orders from no one
pasted below an email about the media whores with their filth and lies to advance the evil agenda of the "Dark One's"
and, what about: Fukushima: Hanging by a Thread - our entire civilization is hanging by a thread.
M7.3 offshore North Japan, Tsunami warning, Scale 4 in Fukushima, Plant state unknown
¡°Especially Alarming¡±: Giant quake of magnitude 8 or greater could soon strike Japan
¡ª Gov¡¯t calls for ¡®continued vigilance¡¯
Researcher, ¡°Stay cautious for another major earthquake for more 2 ~ 3 days¡±
Significant similarity between M7.3 of 12/7/2012 and M7.3 of 3/9/2011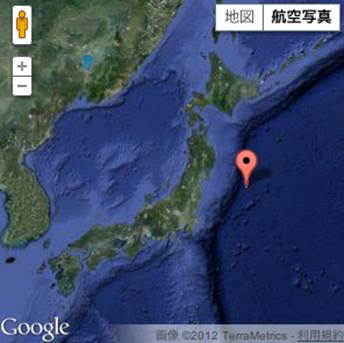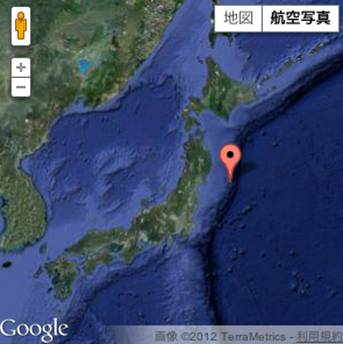 Report: M7.3 quake caused reaction inside Unit 1 at Fukushima Daiichi
¡ª Indications are that something corium related is going on
4,277 tons of nuclear fuel at Fukushima. Which means that there is almost 24 times more nuclear fuel at Fukushima than Chernobyl. Specifically, Tepco transferred many more radioactive spent fuel rods into the storage pools. According to Associated Press, there were - at the time of the earthquake and tsunami - 3,400 tons of fuel in seven spent fuel pools plus 877 tons of active fuel in the cores of the reactors. The Amount of Radioactive Fuel at Fukushima DWARFS Chernobyl
Japan - Exploded Nuclear Plant Uses MOX Fuel - Not Uranium! What is that? Just 2 MILLION Times WORSE than Uranium or Chernobyl's Meltdown!
the world has no conscience for technology¡¯s destruction and damage to Earth.
New flyover of giant Louisiana sinkhole shows changing appearance (VIDEOS)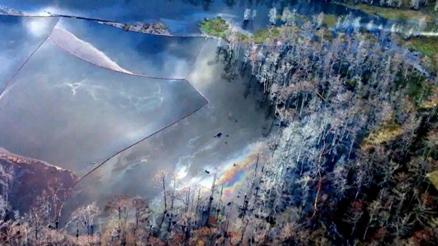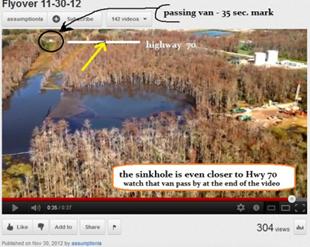 BP Oil Spill Stalls Gulf Loop Current "Super Long leaking fissure" Beyond Patch-up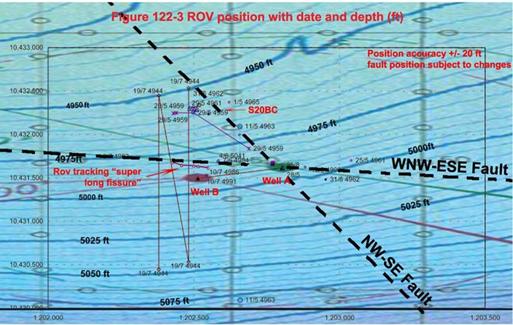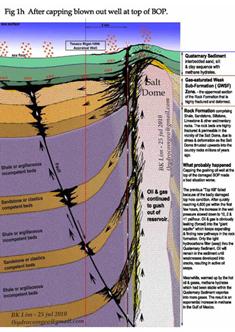 Gulf Stream Dead making extreme weather - Earl of Stirling part1 Scientist:'Gulf Loop Current is broke' -"Mini Ice Age" on the way Europe
all were given conscience to evolve from Earth.
It's all been a hoax and it's all been an illusion, the world's always been in the clutches of the Devil's game with the illusion there is law and the hope of the return of a saviour and still their word of accountability in the illusion is ignored.
THE GOD OF THIS WORLD PART: 1 - 2 - 3 4 Link: 3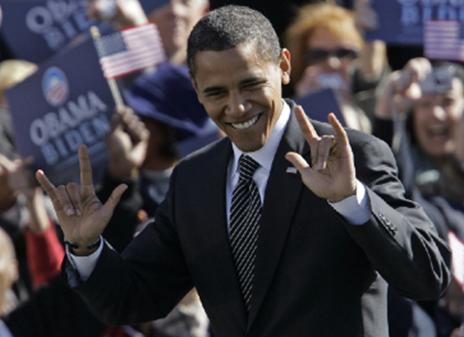 We Love You, Devil? and, Satan on the American Dollar!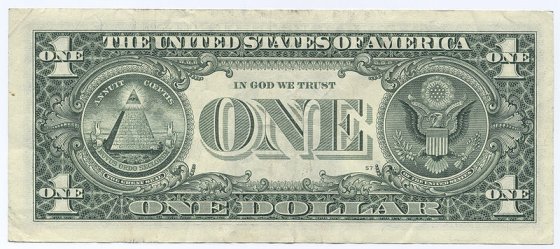 Obama, you can't do jack shit, accountability would be forthwith as my Invoking has all 'alien races' accountable here on Earth
Law¡¯s the Authority, it needs no Gods or Creators to exert Authority as you¡¯ll soon all comprehend.
Why, all actions and agendas of everyone on Earth, be it Military, Political, Religious or those for human experience changed in 1971, through the 1971/Invoking Law of Intent and that¡¯s a fact, everything has been unobtainable here on Earth through the last 40 years and always was unobtainable, the world¡¯s only allowed themselves to be judged.